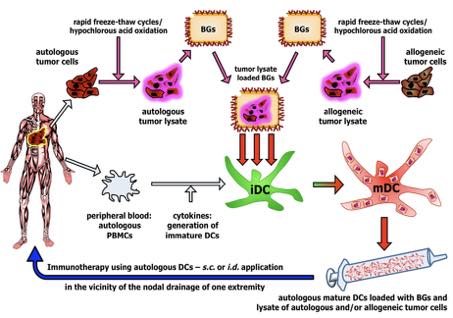 Dendritic cell vaccination for Cancer
We organize best clinics for dendritic vaccination for cancer.
With GermanyHealth you can find best clinics when you are interested to undergo dendritic cell vaccination for cancer is available at certified and accredited clinics and centers with certification and license only.
We offer only hand-picked, certified and trusted clinics for dendritic vaccination for cancertherapy.
By today the clinics in the Czech Republic are modern and offer a high standard of medical care in combination with latest equipment and medical device.
Dendritic Cell Therapy for Cancer
Regenerative Vaccination Therapy
Experts from the stem cell clinics collaboration with several European Universities and biotech industry developed unique and patented anti-cancer vaccine. It's derived from patient´s own immune cells that can be easily obtained from peripheral blood. These cells are cultured in vitro to obtain dendritic cells.
Further dendritic cells are professional cells of the immune system capable of inducing strong anti-cancer responses. In some occasions it is also beneficial to obtain freshly removed tumor tissue from patient undergoing elective surgery. However in case the autologous tumor tissue is not available, allogeneic tumor cell lines characterized for the presence of universal tumor-associated antigens can be provided instead as a source of tumor antigen.
In general there is no serious side effects associated with the vaccine. Your quality of life may improve dramatically. This type of vaccine can be also produced and administered in earlier stages of cancer to enhance own immune system activation in a fight with tumor cells without significant side effects.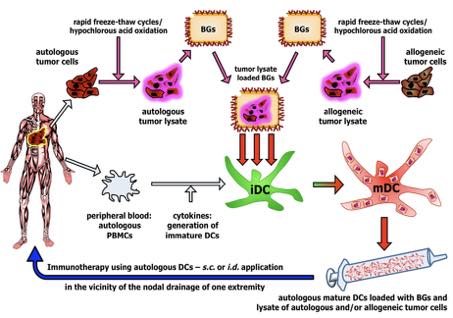 Medical conditions that can be treated by autologous dendritic cell vaccination:
Breast carcinoma
Cervix and Uterus carcinoma
Lung carcinoma
Carcinoma at stomach
Large intestine carcinoma (colorectal)
Pancreas and Kidney carcinoma
Bladder carcinoma
Indications that can be treated by autologous dendritic cell vaccination:
Sarcoma of soft tissue
Sarcomas of bone
Ewing sarcoma
Pediatric soft tissue sarcoma
Request now and Book later.
Our care team will organize best clinics Dendritic Cell Vaccination Therapy.
– Book best Hospitals with GermanyHealth –