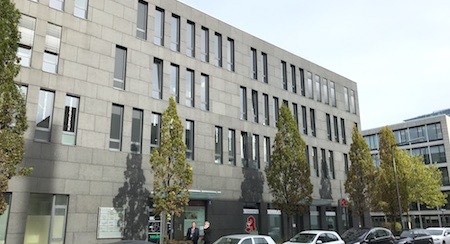 Orthopedic Physiotherapy Center
The Orthopedic Physiotherapy Center in Munich offers outpatient physiotherapy and rehabilitation treatments. The facility is a fully equipped gym with massage rooms, training places for orthopedic physiotherapy and rehabilitation. Such variety creates an excellent opportunity to carry out professional orthopedic rehabilitation treatment and physiotherapy processes.
The Orthopedic Physiotherapy Center in Munich offers a professional unique synergy of sophisticated technology in physiotherapy with luxurious modern ambiance and outstanding service. They are a partner of many leading orthopedic hospitals in Munich. At the clinic state-of-the-art technical devices such as modern training devices are available.
The clinic is situated 20 min by car away from the Munich city center.
Orthopedic Physiotherapy Center
The Physiotherapy Center in Munich offers modern therapy rooms for their international patients, to provide the highest standard of comfort during their stay. You can expect top rehabilitation treatments for orthopedic rehabilitation, Scoliosis treatment and rehabilitation, after spine surgery rehabilitation treatment, knee or hip replacement surgery.
Accreditation and Listings
The hospital has been awarded numerous certificates and awards for its excellent level of service and quality, including the ISO 9001:2015 certification, as well several awards.


Successful therapists working at successful clinics
Physiotherapists at the PHI Orthopedic Physiotherapy Center in Munich are excellent trained and educated. The owner and chief Mr. Guenther Grasse are holding a diploma degree in physiotherapy and osteopath. The physiotherapists at PHI Orthopedic Physiotherapy Institute holding master degrees and attending courses regularly for updating their knowledge and extending their skills.

Parking available

Diplom Therapists available

Wifi available

Credit Card Acceptation

Cafeteria & Restaurant

Pharmacy next door
Departments in the Rehabilitation Clinic
Rehabilitation treatment for Orthopedics

After an orthopedic surgery what you will wish for is to recover and to resume a complaint-free active life as quickly as possible. The specialized rehabilitation treatment team of experts will assist you with state-of-the-art exercise equipment. The team of physiotherapists and rehabilitation specialists are committed supporting you in this with both great dedication and know-how and the most modern techniques.

Disorders of the musculoskeletal system
Congenital and acquired disorders of the musculoskeletal and locomotor systems
Degenerative and chronic disorders of joints and spine
Spine surgery rehabilitation
Scoliosis surgery rehabilitation

Rehabilitation treatment after hip replacement surgery
Comprehensive rehabilitation treatment after knee replacement surgery
Rehabilitation of shoulder after surgery
ACL / PCL rehabilitation after knee surgery
Simply Book an appointment.
Our care team will manage your appointments.
– Book best Rehabilitation Clinics in Germany –