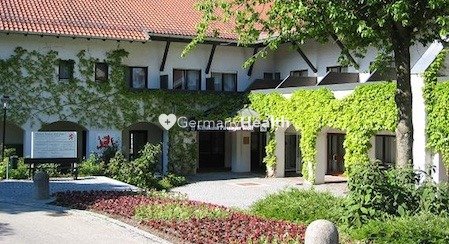 Rehabilitation Hospital PassauerWolf
Orthopedic and Neurology Rehabilitation Treatment
The Rehabilitation Hospital PassauerWolf Bad Griesbach has its own laboratory that allows doctors and medical staff to carry out not only rehabilitation processes but also high quality diagnostic process. Various rehabilitation and treatment facilities such as fully equipped gyms, massage rooms, training centers for movement rehabilitation, hydrotherapy facilities, etc. are always at your service.
Such variety creates an opportunity to carry out rehabilitation treatment and treatment processes orthopaedic and neurology cases but also emergency/accident-related or after brain stroke rehabilitation.

At the Rehabilitation Hospital PassauerWolf in Bad Griesbach offers a unique synergy of sophisticated technology in medicine and therapy with luxurious ambiance and outstanding service. There is 4-star hotel connected to rehabilitation hospital with comfortable rooms for those who like to stay there or your family members. At the clinic state-of-the-art technical devices such as ECG and sonography units are available so are in excess of 95 beds.
The clinic is situated in Bavaria close to the Bavarian forest and just a 1 1/2 hrs. drive away from the Munich International Airport center. A 30 min drive to the next town Passau at the Danube river and 1 hr drive to Linz in Austria.
Rehabilitation Hospital PassauerWolf
The Rehabilitation Hospital PassauerWolf is fitted with regular hospital rooms on the ward and comfortable rooms at their hotel for international patients, to provide the highest standard of comfort during their hospital stay. The rooms feature a bathroom incl. shower and TV. You also can book a junior suite for a very comfortable stay with a lot of space. The Rehabilitation Hospital PassauerWolf offers daily menu and accepts any special dietary requirements. The beds are fitted with a phone and all rooms have WiFi so that patients can stay in touch with their family. 1 family can stay with the patient on the room incl. the daily menu.
Accreditation and Listings
The hospital has been awarded numerous certificates and awards for its excellent level of service and quality, including the ISO 9001:2015 certification, as well several awards.



Successful doctors working at successful hospitals
The Rehabilitation Hospital PassauerWolf combines In the areas of neurology, (Phase B and C), orthopedics, traumatology, and sports medicine. The hospital for rehabilitation covers the entire range of medical services, rehabilitation therapy, and rehabilitation treatment.
In the close neighborhood, you find shops for food, cloth, a pharmacy, many restaurants, hairdresser, hotels with bars and a thermal bath for swimming and relaxing.

    Phone on the room

    TV on the room

    Bathroom for disabled

    Disabled Mobility Access

    Chief Doctor Service available

    Wifi available

    Private rooms possible

    Family Accommodation

    Checkup for Family Members

    Cafeteria & Restaurant

    Credit Card Acceptation

    Laundry Service

    Pharmacy next door

    Parking available
Service for international patients
Our international office, which tailors medical care and services to suit the needs of international patients. We offer you our personal assistance service for visa obtainment, accommodation search, airport transfer, interpreter services, air ambulance service, sightseeing arrangements. We recognize cultural and religious aspects of our patients. Book our personal assistance service if you need help to find the right hospital or clinic or to book an appointment. We help you at any time!

    Visa / Travel Service

    Interpreter Service

    Airport pickup Service

    Limousine Service

    VIP Premium Service

    Hospital Admission Service

    Air Ambulance Service

    Patient Management Service

    Sightseeing Service
Departments in the Rehabilitation Hospital
Rehabilitation treatment for Orthopedics | Sports Medicine

After an accident or injury or any orthopedic joint surgery what you will wish for is to recover and to resume a complaint-free active life as quickly as possible. The specialized rehabilitation treatment team of experts and state-of-the-art exercise equipment will assist you there. They have devised a unique range of programs to resume rehabilitation training for any sports you may have practiced before your accident. Our rehabilitation therapists are committed to supporting you in this with both great dedication and know-how and the most modern computer-controlled exercise equipment.

The rehabilitation hospital also provides the option to consult with a psychologist to patients in order to assist in dealing with the often drastic experience an accident and injury may mean.

Disorders of the musculoskeletal system
Congenital and acquired disorders of the musculoskeletal and locomotor systems
Degenerative and chronic disorders of joints and spine
Osteoporosis

Orthopedic Rehabilitation after hip replacement surgery
Rehabilitation treatment after knee replacement surgery
Shoulder Rehabilitation treatment
Physiotherapy after ACL / PCL knee surgery
Recuperation treatment spine surgery

Rehabilitation treatment for Traumatology | After Car Accidents

In the areas of traumatology, our clinics cover the entire range of medical services – from diagnostics rehabilitation treatments such as physiotherapy, manual therapy, lymph drainage massage, craniofacial treatment, etc..

We regard state-of-the-art technology and techniques in diagnosing, understanding and treating disorders of the entire musculoskeletal system and a holistic, interdisciplinary approach to therapy as a matter of course.

Postoperative management and rehabilitation following surgical procedures, after injuries to the musculoskeletal system and accidents

Injuries of the spinal cord, such as paraplegia
Injuries of the brain, such as craniocerebral injuries

Rehabilitation treatment for Neurological Disorders (e.g. Brain Stroke)

Unless expertly treated, neurological disorders, such as a stroke, can mean permanent disability and incapacitation for many patients and in most cases can put an abrupt end to a previously independent lifestyle.

We want to help you avoid this and return you, as much as possible, to full control of your own active life. We have devised a treatment and care plan tailored to the specific needs and requirements of all degrees of neurological disorders, which is in operation throughout all facilities.

It ensures seamless optimized medical care from the acute care hospital through a center for post-acute inpatient rehabilitation and follow-up therapy, up until you are ready to be discharged.

Brain Stroke (phases B, C and D)
Multiple sclerosis
Muscle weakness, such as myasthenia and neuromuscular disorders

Severe multitrauma
Postoperative management and neurologically rehabilitation following surgical brain procedures, after car accidents and injuries to the neuromuscular and nerv system.
Simply Book an appointment.
Our care team will manage your appointments.
– Book best and affordable Rehabilitation Hospitals in Germany –