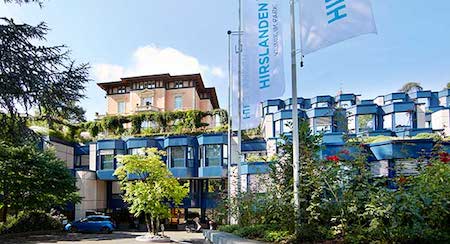 Hirslanden Klinik Im Park
The Hirslanden Klinik Im Park in Zurich, Switzerland has guaranteed medical excellence and high-quality professional care for 30 years. Outstanding medical expertise, modern infrastructure, lavish facilities and field leading experts with a focus on individual attention with a personal touch will reassure patients that they are in good hands.
The prestigious Hirslanden Klinik Im Park is located on the left bank of Lake Zurich in an attractive and accessible location. The hospital is renowned amongst professional circles for its medical infrastructure and expertise.

Hirslanden Klinik Im Park covers most medical specialties and shares the expertise and experience from 30 institutes and centers of excellence among the Hirslanden Private Hospital Group. The clinic's main expertise include: cardiology, cardiac and thoracic vascular surgery, visceral surgery, orthopedics, trauma and sports surgery, gynecology, obstetrics, radiology, neuroradiology, oncology, neurosurgery, and urology.
The Hirslanden Klinik im Park shared collaboration and expertise offer its patients first-class medical care tailored to the individual. The highly skilled nursing staff and environment will cater to each individual patient and guarantee privacy and discretion.

Accreditation and Listings
The Hirslanden Klinik Im Park has been awarded numerous certificates and awards for its excellent level of service and quality, including the ISO and EFQM certification.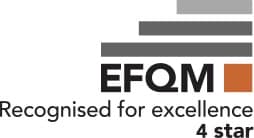 Hirslanden Klinik Im Park
The Hirslanden Klinik Im Park in Zurich, Switzerland is fitted with modern hotel style rooms for their international patients, to provide the highest standard of comfort during their hospital stay. The rooms at the Hirslanden Klinik Im Park feature a bathroom incl. shower and flat TV. The Hirslanden Klinik Im Park offers daily menu, room service and accepts any special dietary requirements. The beds are fitted with a phone and all rooms have WiFi, for staying in contact with your family. A family member can stay with the patient on the room incl. full daily accommodation.
Successful doctors working at successful hospitals
Founded in 1986 as AMI, Hirslanden Klinik Im Park has been a member of the Hirslanden Private Hospital Group since 1990. The nursing wards have 126 beds with 8 beds for intensive care. Hirslanden Klinik Im Park is constantly investing in the latest state of the art infrastructure, one of the latest renewals being the maternity unit with 2 delivery rooms where over 500 babies are born yearly.
The Hirslanden Klinik Im Park is equipped with 8 operating theaters, including a state of the art hybrid operating theatre, performing around 7,500 operations every year. Besides, the treatment unit offers 3 cardiac catheterization laboratories and a fully equipped radiology and neuro-radiology center with 2 MRI and 1 CT. Klinik Im Park has over 600 highly trained employees as well as 300 affiliated doctors and in-house physicians who are dedicated to the first class treatment and care of its patients.

    Phone on the room

    TV on the room

    Bathroom for disabled

    Disabled Mobility Access

    Chief Doctor Service available

    Wifi available

    Private rooms possible

    Family Accommodation

    Checkup for Family Members

    Cafeteria & Restaurant

    Credit Card Acceptation

    Parking available

    Kiosk / Shop
Service for international patients
Our international office at the Hirslanden Klinik Im Park, which tailors medical care and services to suit the needs of international patients. We offer you our personal assistance service for visa obtainment, accommodation search, airport transfer, interpreter services, air ambulance service, sightseeing arrangements. We recognize cultural and religious aspects of our patients. Book our personal assistance service if you need help to find the right hospital or clinic or to book an appointment. For patient with highest demands we recommend to book our VIP Medical Concierge Service. We help you at any time!


    Visa / Travel Service

    Interpreter Service

    Airport pickup Service

    Limousine Service

    VIP Premium Service

    Hospital Admission Service

    Limousine Service

    VIP Premium Service

    Hospital Admission Service
Departments in the Hospital
Aesthetic | Cosmetic Surgery

Women:

Breast augmentation
Breast lifting
Eye wrinkles
Face lifting
Liposuction
Blood Plasma injection
Rhinoplasty

Men:

Hair transplantation
Rhinoplasty (Nose correction)
Eye wrinkles
Neck lifting
Liposuction
Ear pinning Surgery
Plasma Injection (Anti aging)

Cardiology

Aortic Valve Repair
ASD Atrial Septal Defect
Coronary Angioplastic
Aortic Stent placement
Heart Arrhythmia
Catheter Ablation

Ventricular Septal Defect (VSD) Closure
Stress Electrocardiography (ECG)
Myocardial Infarction Treatment
Mitral Valve Repair
Implantable Cardioverter Defibrillator (ICD) Implantation
Complete heart check

Endoprosthetics

Hip Joint Replacement Surgery
Total Knee Joint Replacement Surgery
Shoulder Joint Replacement surgery

Ankle Joint Replacement Surgery
Wrist Joint Replacement Surgery
Artificial Disc replacement Surgery

ENT – Ears, Nose and Throat

Laryngoscopy
Myringoplasty
Septoplasty
Sinus Surgery
Tinnitus treatment

Tonsillectomy
Tympanoplasty
Myringotomy
Ossicular Chain Reconstruction

Gastroenterology

Gastroscopy
Colonoscopy
Polyp Removal
Liver Check

Gullet Check
Stomach Check
Cholecystectomy
Oncological Liver Gastro

General Surgery

Mastectomy
Liver Resection
Appendectomy
Wippel
GERD Fundobligation
Gastrectomy
Liver Resection Surgery
Tumor Surgery
Colon Cancer Surgery

Adrenalectomy
Nephrectomy
Hiatus Hernia
Hernia repair
Minimally Invasive Surgery
Splenectomy
Esophagus Surgery
Organ Transplantation Surgery

Gynecology

Mastectomy
Cystocele Repair
Laparoscopic Hysterectomy
Ovarian Tumor Removal
Tubal Ligation Reversal
Uterine Prolapse Surgery

Mammography
Treatment of Breast Cancer
Biopsy of Breasts
Breast Tumor Surgery
Mamilla Surgery
Estrogen Treatment

Haematology (Blood Disease)

Blood Cells Treatment
Idiopathic Thromobothytopenic Pupura Treatment
Hematological Malignancies

Leukemia Treatment
Treatment of Lymphomas (Blood Cancer)
Blood Anemia (Sickle Cell Anemia)

Maxillofacial Surgery

Jaw Fracture Treatment
Maxillofacial Surgery Consultation
Facial Paralysis Treatment

Facial Paralysis Treatment
Facial Tumor Removal
Maxillofacial Prosthetics

Neurology

Consultation and Treatment of ALS
Treatment of Cerebral Palsy
Treatment of Epilepsy
Epilepsy Trigger Device Implantation
Dementia Management

Trigeminal Neuralgia Treatment
Treatment of Huntington's Disease
MigraineTreatment
CCSVI
Cauda Equina Syndrome

Neurosurgery (Brain/Nerves/Parkinson etc.)

Brain Tumor Surgery
Spine Tumor Surgery
Herniated Disc Surgery
Spine Scoliosis Surgery

PARKINSON – Deep Brain Stimulation Surgery
EPILEPSY – Deep Brain Stimulation Surgery
Cyber Knife / Gamma Knife

Orthopedics | Sports Medicine

Orthopedic Consultation
Osteoarthritis Treatment
Treatment of Arthrosis
Treatment of Osteoporosis
Knee Surgery
Artificial Knee Joint Replacement Surgery
Arthroscopic Knee Anterior Cruciate Ligament ACL Reconstruction Surgery
Arthroscopic Knee Posterior Cruciate Ligament PCL Reconstruction Surgery
Femur Head Fracture Surgery
Hip Arthroplasty Surgery
Hallux Valgus Surgery

Shoulder Surgery
Ankle Joint Surgery
Foot Surgery
Hand and Wrist Surgery
Arm FractureSurgery
Arthroscopic Hip Surgery
Artificial Hip Joint Replacement Surgery
Treatment of Bursitis
Shoulder Dislocation Surgery
Shoulder Fracture Surgery
Stem Cell Treatment Knee / Hip

Plastic | Reconstructive and Hand Surgery

Breast Reconstruction Surgery
Burned Skin Surgery
Children Cleft Lips Surgery
Hand Surgery

Craniofacial surgery
Skin Grafting Surgery
Flap Surgery
Microsurgery

Pulmology (Lung)

Spirometry (Lung Function Test)
Treatment of Asthma
Lung Cancer Treatment

Lobectomy (Partly Lung Resection Surgery)
Emphysema Treatment
Lung Transplantation Surgery

Rheumatology

Treatment of Fibromyalgia
Lupus Erythematous Treatment
Rheumatoid Arthritis Consultation

Sjogren's Syndrome Treatment
Gait Treatment
Rheumatological Consultation

Spine Surgery

Artificial Disc Replacement
Decompression Spine Surgery
Spine Nucleotomy
Herniated Disc Surgery
Dynamic Spine Stabilization
Spine Fusion Surgery
Minimally Invasive Surgery

Kyphoplasty Surgery
Vertebroplasty Surgery
Laminectomy
Scoliosis Surgery
Spine Tumor Surgery
Canal Stenosis Surgery
Spondylolisthesis Stabilisation

Thorax Surgery

Thorax Thymoma Surgery
Thorax Thymic Carcenoma Surgery
Synovial Sarcoma Surgery

Barrett's Esophagus Surgery
Esophageal Cancer Surgery
Extrapleural Pneumonectomy

Traumatology

Treatment of Life-threatening Injuries
Bone Fracture Surgery

Car Accident Victims Treatment
Polytrauma Patient Treatment

Urology

Bladder Removal Surgery
Neo Bladder Reconstruction Sur
Endometriosis Treatment
Laparoscopic Surgery (Keyhole)
Erectile Dysfunction Treatment
Transurethral Resection of Bladder Tumors (TURBT)
Vasectomy Surgery

Prostate Cancer Surgery
Minimally Invasive Prostatectomy
Benign Prostate Treatment
Kidney Tumor Surgery
Kidney Removal Surgery
Varicocele Surgery
Transurethral Resection of the Prostate (TURP)
Laser Treatment for BPH (Enlarged Prostate)

Vascular surgery

Endovascular Treatment of Stenoses in PAOD
Surgical Removal of Constrictions of the Carotid Artery
Endovascular Treatment of Aneurysms
Charcot foot Surgery

Vein Sten
Endovascular Dilitation
Varicose Veins Surgery
Insertion / Correction of dialysis shunts
Chronic Venous Insufficiency
EVAR/TEVAR, Stent Prosthesis

Visceral surgery

Liver Resection Surgery
Wippel Surgery
Pancreas Surgery
Tumor Surgery
Colon Cancer Surgery
Thyroid Surgery
Minimally Invasive Surgery

Adrenalectomy
Appendectomy
Gastrectomy
Splenectomy
Liver Tumor Surgery
Colon Resection Surgery
Simply Book an appointment.
Our care team will manage your appointments.
– Book best and leading Hospitals in Switzerland –