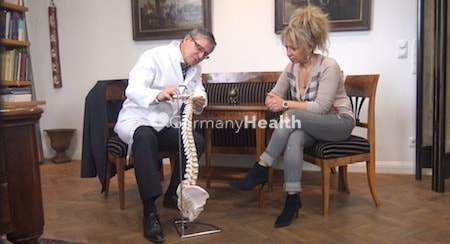 Specialized Neurosurgery Spine Hospital
The Specialized Neurosurgery Spine Hospital in Frankfurt, Germany is directed by Dr. Haberland is a highly specialized hospital for spine surgery and spinal neurosurgery.

The Specialized Neurosurgery Spine Hospital in Frankfurt, Germany – Dr. Haberland offers practice interdisciplinary medicine of conservative spinal treatments and minimally invasive spine surgery and delivers the best standard of treatment to his patients. The Specialized Neurosurgery Spine Hospital in Frankfurt, Germany is a specialized clinic for treatment of spinal disorders and microsurgical spine surgery. The enormous expertise demonstrates the high level of competence in the medical skills of Dr. Haberland. It is of the utmost importance for the doctor that patients resume their healthy lifestyle as soon as possible.
For this purpose, latest diagnostic techniques are also used such as minimally invasive and microsurgical spinal procedures. The quality of treatment is thereby continuously evaluated and improved. The Specialized Neurosurgery Spine Hospital in Frankfurt is capable of expertly treating a wide range of spinal disorders and spinal problems of different degrees of severity.

Accreditation and Listings
The clinic has been certified and received best awards of patients for its excellent level of service and quality.

Specialized Neurosurgery Spine Hospital
The Specialized Neurosurgery Spine Hospital in Germany offering conservative spine treatments and minimally invasive and microsurgical spine surgeries, which is fitted with comfortable rooms for their international patients, to provide the highest standard of comfort during their hospital stay. The rooms feature a bathroom incl. shower, mini bar. The hospital also offers a daily à La Carte menu and accepts any special dietary requirements. The beds are fitted with a phone, fat TV panel and all rooms have WiFi so that patients can stay in touch with their family. 1 family can stay with the patient on the room incl. the daily card menu.
Outpatient or ambulant spinal treatments such as conservative treatments and therapies are going to be performed at the spine clinic directly. They have a special room fitted with modern x-ray system in which they perform treatments such as facet joint infiltration injections, pain therapy treatments and thermocoagulation procedures.
Successful doctors working at successful hospitals
The Specialized Neurosurgery Spine Hospital in Frankfurt, Germany combines not only excellent clients under one roof, furthermore, Dr. Haberland is an excellent educated, trained and skilled doctor of neurosurgery. He follows and offers the latest research results and techniques.


    Phone on the room

    TV on the room

    Bathroom for disabled

    Disabled Mobility Access

    Wifi available

    Private rooms possible

    Room service

    Family Accommodation

    Credit Card Acceptation

    Parking available
Service for international patients
Our international office, which tailors medical care and services to suit the needs of international patients. We offer you our personal assistance service for visa obtainment, accommodation search, airport transfer, interpreter services, air ambulance service, sightseeing arrangements. We recognize cultural and religious aspects of our patients. Book our personal assistance service if you need help to find the right hospital or clinic or to book an appointment. We help you at any time!


    Visa / Travel Service

    Interpreter Service

    Airport pickup Service

    Limousine Service

    VIP Premium Service

    Hospital Admission Service

    Appointment Organization

    Medical Report Translation

    Air Ambulance Service
Departments in the Hospital
Conservative Spine

Minimal invasive spinal pain management including facet joints infiltration, periradicular treatment (PRT) and epidural injection

Percutaneous laser disc decompression (PLDD)

Spine Surgery

Artificial Disc Replacement
Decompression Spine Surgery
Spine Nucleotomy
Herniated Disc Surgery
Dynamic Spine Stabilization Surgery
Minimally Invasive Spine Surgery
Microsurgical Spine Surgery
Scoliosis Spine Surgery

Kyphoplasty Surgery
Vertebroplasty Surgery
Laminectomy
Spinal Canal Stenosis
Spine Fusion Surgery
Spondylolisthesis Stabilisation
Book an appointment.
Our care team will manage your appointments.
– Book best Neurosurgery Hospitals in Germany –