BEST TOTAL HIP REPLACEMENT SURGERY IN GERMANY
We organize the best hospitals for hip surgery in Germany
For total hip replacement surgery in Germany, our network includes the best orthopedic hospitals. We have carefully selected, assessed, and certified these hospitals as being qualified. Thus, we are able to provide you with the best clinics for total hip replacement surgery in Germany (hip arthroplasty).
Furthermore, you can choose from 17 carefully chosen orthopedic surgeons from Germany for total hip replacement surgery in Germany. However, our skilled medical staff assists you in finding the best orthopedic hospitals quickly and easily.
When it comes to total hip replacement surgery in Germany, you can locate the top doctors with GermanyHealth. As a result, people who are interested in receiving high-quality medical care contact us to get a cost estimate or quote. Before we would need your medical files such as x-ray and reports.
We also provide affordable, high-quality medical care, along with prompt appointment scheduling. You won't have to wait a long time for an appointment with GermanyHealth. Use our personal assistance service. If you require assistance from staff to set up VIP patient concierge service, you may also reserve our VIP Assistance Service, an exclusive premium service.
Indication of Total Hip Replacement Surgery / Hip Arthroplasty
Osteoarthritis in its later stages is typically a reason for total hip replacement surgery or hip arthroplasty. Hip cartilage thus becomes very thin and, in some instances, entirely worn down as a result of this condition. Unfortunately, bony growths can deform the joint surface. This can cause discomfort, swelling, and restricted mobility in your hip joint. Before you get your hip arthroplasty surgery in Germany we do an MRI scan and x-ray.
Which type of hip endoprosthesis are available?
The implant's metal parts are constructed of titanium or alloys based on cobalt and chromium. Furthermore, ultra-high molecular weight polyethylene is used in the production of plastic components. Our surgeons use special ceramic or ceramic/metal hybrid implants for younger patients. So to recommend the right hip implants for your total hip replacement surgery, we need your medical files.
These artificial hip joints are constructed of materials that were created specifically for medical usage and have the maximum level of tissue tolerance. Additionally, the implants allow the joint to operate painlessly and permanently following the operation.
How is total hip replacement surgery in Germany performed?
In a minimally invasive procedure known as an anterior hip replacement, the orthopedic surgeon approaches the hip joint from the front of the hip rather than the side or the rear. However, this method allows for the replacement of the hip without the need for muscle detachment surgery. It's also called the "mini-anterior approach" or "muscle-sparing hip replacement"
The orthopedic surgeon works within the muscles' normal space between them. As a result, there is less surgical trauma and faster healing. Please watch videos about total hip replacement surgery.
How long is the hospital stay after a hip replacement surgery?
Artificial hip replacement surgery in Germany often requires a hospital stay in an orthopedic facility of 5 to 7 days. Therefore, you already receive light physiotherapy and walking instruction while in the hospital.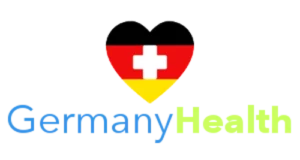 – We do it by heart –
CALL US: 0049 151 56607300
The cost for Total Hip Replacement Surgery in Germany:
In conclusion, the average price range for artificial hip replacement surgery at top orthopedic clinics is between 19.700 and 32.000 Euro.
For example, in the Czech Republic, the total hip replacement price starts at: 12.500 Euro.
The following factors contribute to the cost of a total hip replacement surgery (hip endoprosthesis):
Cost of the doctor (cost of surgery – the type of intervention and degree of seclusion)
Cost of anesthesia (length and duration of surgery)
Hospital costs (fixed assessment costs – basic costs of a clinic – base rate)
Cost rooms in the hospital (single room, private room, or regular hospital room)
Some clinics, such as university hospitals, have a special premium package for international patients which increases the cost.
We provide you with the best clinics for your total hip replacement surgery in Germany based on your preferences. Now let's talk. We make it quick and simple! However, if you want the meet the best doctor for your hip replacement contact us and we assist you!
Request today
Our care team will organize the best orthopedic hospital for you!
– Book the best artificial hip replacement surgery in Germany –